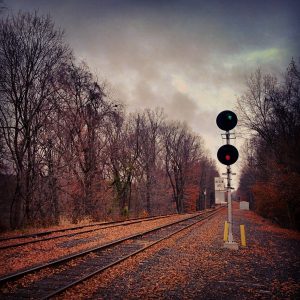 For holidays and city breaks, we are train lovers.
And not just because we've worked for SNCF, the French railways, although it is a syndrome that we fall in love with our clients' products.
But we were loving trains before that.
As a group of world pedestrians, we love flying too. But when it comes to short distances, or European city breaks, the train is it.
European flights: traffic jam to airport. Check in. Security check. Wait at gate. Queue to embark. Tiny seats. Taxi. Take off. Bag locked up. Cruising for 30 minutes. Landing preparation. Landing. Transfer to terminal. Queue at taxi rank. Traffic jam to get to town. Everyone truly understands why this is called cattle class…
With the train, the vacation starts immediately. The journey is itself part of the experience and the adventure.
It's about seeing the landscape. The land. The villages and towns. The fields. The woods. It's experiencing the change of flora as the train progresses towards its destination. It's feeling the journey, as opposed to being teleported. It's about the voyage.
It's also about travel companions. Most trains allow for sociability. In the restaurant carriage, or in compartments. Trains favour conversations, exchanges, human interaction, meeting new people, or old friends.
Train travel also offers time to oneself if you choose to work, or to read, or to watch movies. Or to sleep.
The problem is, we've been conditioned to think plane.
We've been conditioned to buy the destination, not the journey.
Plane is associated with the dominant vacation paradigm which is to get to a place we desire to visit, and "use it", whether it is a beach, a sky resort, a country or a city.  We have been trained to travel to places with a strong pre-conception of what they are and how we can enjoy them, what we want to do once at destination. Don't we celebrate the moment where we reach our fantasy with a celebratory selfie?
But there is another way to travel, which is the encounter of the unknown, acceptance that we might be astonished and challenged by new places. Walking the streets and getting lost, voluntarily. Wandering with no other goal than to find an unplanned delightful surprise.
Train is a mental preparation to engage in the alterity of another place. It's an invitation to open up, look around, discover and feel.
As there is fast and slow food, there is fast and slow voyaging.
Thinking train is making a choice of journeys.
Christophe Abensour