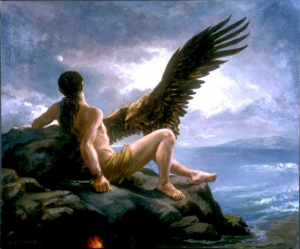 Our work is to help brands and organizations to create their foundational narrative.
What is a Foundational Narrative?
A concept taken from cultural anthropology, it is the founding story that defines and sums up the raison d'être, beliefs and actions of civilizations, nations, movements, organizations… and brands.
Foundational narratives create meaning, unite communities or audiences behind core values, common goals and shared visions. They anchor organizations and brands in the culture, and make them into cultural beacons; foundational narratives help people define themselves, and claim their identity.
By triggering social and societal aspirations, foundational narratives motivate people to pursue their goals and their dreams. They are the starting point of social movements, they are the cultural force that inspire us to live purposeful lives.
A foundational narrative is a story with strong meaning that strikes the imagination and resonates with each individual within a particular cultural group.
Not just anecdotes…brands and organizations with a great foundational narrative establish modern mythologies:
Dove:  overcoming the monster of the beauty stereotypes.
Innocent:  being true to yourself brings success.
Red Bull:  be a modern Prometheus.
Harley Davidson:  rebel with a cause.
Steve Jobs:  perfection without limits.
Facebook:  everybody's life is a story.
Ikea:  turn your house into a home.
Mini:  David versus Goliath.
A&P.
Back to Who we are.